Gummy Bunny





Type
Passive
Health Points
4 ()
Spawn
Solid surfaced blocks with a minimum of two block spaces above them
Common Drops
Gummy (1-3)
Experience
Kill Adult: 1–3

Breeding: 1–7

Gummy Bunny is a mob that is added by the CandyCraft mod.
Take a Green trampojelly... keep spawning Gummy Bunnies on the Green Trampojelly... rainbow acrobat team! [Only in Creative Mode]
Appearance
Gummy Bunnies come in all sorts of colors, ranging from red to blue to green and a whole lot more. You can create a house full of Gummy Bunnies! Watch the little adorable creatures flood your house and jump about!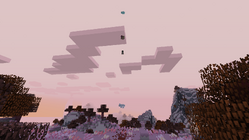 Behaviour
They are Passive, meaning they will never attack you.
Gummy Bunnies like to jump. The sound they make when they jump is the same sound that Slime make.
They get attracted to you when you hold Licorice. Feeding a Gummy Bunny Licorice will activate breeding mode.
They can drown in water easily, as they are less than a block tall.
They take no fall damage.
They come in 12,977,875 different colors.
Drops
Community content is available under
CC-BY-SA
unless otherwise noted.