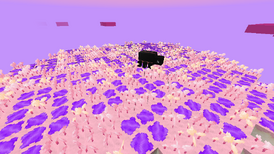 The Licorice Beetle spawns on floating islands around the map. The only way to kill it is hit its projectiles back at it (like a Ghast). It stands completely still and only fires projectiles at you. As it's health gets lower, it will start to fire the projectiles faster. When you see flames start to appear above it, that means it is about to start charging it's rapid fire attack where it shoots tons of flaming projectiles at you.  
It is recommended to build a small enclosure with water at your feet so you can keep knocking projectiles back at the beetle without being lit on fire or knocked back. Bring lots of food, and more importantly, healing stones.
Strategy
Strategy #1
A strategy to defeat the beetle is to knock the beetle down under the island by destroying the block under it. Then alternating between left and right to have a better chance to hit the projectiles back and to avoid being hit.
This strategy is used by PeteZahHutt.
Community content is available under
CC-BY-SA
unless otherwise noted.